Ooracupunctuur
Het oor is een microsysteem, dit is een kleinere zone op het lichaam, waar een projectie van de totaliteit van het lichaam te vinden is. Dit werkt als een aan-/uit systeem. Een reactief punt verschijnt als er sprake is van een disfunctie of een verstoring en verdwijnt als het probleem is opgelost.
Met de elektrische puntzoeker kunnen de exacte locaties van de verstoorde punten in kaart gebracht worden. Niet alle gevonden punten worden behandeld, omdat punten vaak een onderliggende samenhang hebben. Het streven is om met minimale beïnvloeding een zo goed mogelijk resultaat te behalen. Een sterke reactie van de elektronische puntzoeker geeft vaak een belangrijk punt aan. Deze zijn dan te behandelen met naald, verblijfsnaalden of verblijfkorreltjes (magneetbolletjes of zaadjes)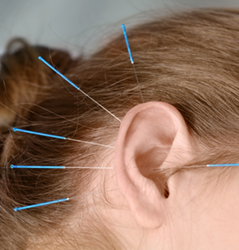 Contact
Voor het maken van een afspraak kunt u bellen 0630313503 of het contactformulier invullen.