Vitaliteitsmassage
Deze massage heeft op veel klachten een positief effect.
De gezondheid gaat bij vrijwel iedereen na een aantal behandelingen aanzienlijk vooruit.
De weerstand wordt groter en het lichaam komt beter in balans.
Het hele lichaam wordt hierbij gemasseerd van top tot teen.
De behandeling duurt ca. een uur. Na afloop wordt getest of het lichaam aanvullend supplementen nodig heeft.
Deze massage is ontwikkeld door drs Pieter Langedijk.
Het is een combinatie van onderdelen afkomstig uit verschillende lichaamsgerichte behandelings methodes.
Door stimulatie van de huid gaat het autonome zenuwstelsel beter functioneren.
Het autonome zenuwstelsel beïnvloed, controleert en coördineert de activiteit van alle organen en lichaamsstelsels.
Vaak zien we dat de sympathicus (voor actie, spanning en inspanning) te actief is en de parasympathicus (voor rust, herstel en vertering) te zwak functioneerd.
Dit geeft allerlei lichamelijke klachten zoals vermoeidheid, gespannen spieren, slechte darmwerking, hoofdpijn, slecht slapen en een gebrekkig functionerend afweersysteem.
Door de vitaliteitsmassage wordt door druk en warmte via de huid ( waarin vele gevoelige zenuwreceptoren zitten) het autonome zenuwstelsel gestimuleerd en daarmee ook invloed uitgeoefend op de organen, hart en bloedvaten, spijsvertering en de hormoonproducerende klieren.
De balans komt terug en de klachten nemen af.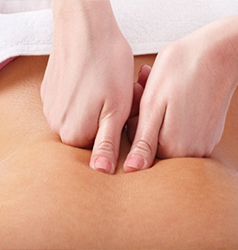 Contact
Voor het maken van een afspraak kunt u bellen 0630313503 of het contactformulier invullen.