Orthomoleculaire geneeskunde
Deze geneeskunde wordt ook wel complementaire geneeskunde genoemd.
Orthomoleculair komt uit het Grieks en Orthos betekend: juist,recht of gezond en moleculair staat voor de moleculen betreffende (de kleine deeltjes zoals vitamines, mineralen, aminozuren en spore elementen). In de orthomoleculaire geneeskunde streeft men er dus naar met natuurlijke, "lichaamseigen"stoffen te werken die het lichaam zonder schade kan gebruiken voor het van nature aanwezige zelfhelend vermogen.
Een ziektebeeld is het niet in evenwicht zijn van het lichaam door invloeden van buitenaf ( stress, milieuvervuiling, verzuring, elektrosmog) en/of door ontoereikende vitaminen,mineralen,aminozuren status van het lichaam.
Door het herstellen van deze tekorten door voeding of supplementen zal het herstellend vermogen weer geactiveerd worden.
Er bestaat een niet te verwaarlozen relatie tussen voeding en ziekten.
Helaas is het ook voor een gezond persoon bijna onmogelijk om alleen via voeding optimale hoeveelheden van de nodige voedingsstoffen binnen te krijgen.
Er zitten door de huidige manier van landbouw en bewerkingen van onze voeding  simpelweg minder voedingsstoffen in onze voeding.
Om ziekte te voorkomen en om ziekte te behandelen kan het nodig zijn naast een zo volwaardig mogelijke voeding, extra voedingssupplementen in te nemen.
Dit kan over het algemeen zonder problemen naast andere behandelingen, zoals regulier geneeskundige behandelingen,  gebruikt worden.
Voor een optimale opname van de supplementen worden de supplemeten door middel van testen speciaal voor u uitgezocht.
Slecht gekozen supplementen kunnen een storing veroorzaken in het lichaam worden slechter opgenomen.
U dient bij de eerste afspraak de supplementen die u gebruikt mee te nemen.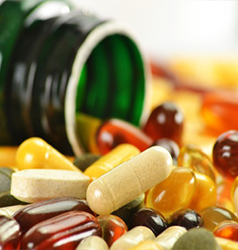 Contact
Voor het maken van een afspraak kunt u bellen 0630313503 of het contactformulier invullen.